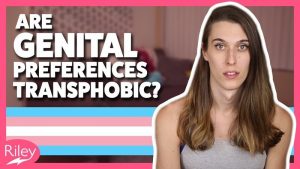 'It takes all sorts to make a world', the old saying goes, and generally I can relate to that. It's just that sometimes, someone whose outlook is a bit, well, odd, intrudes on my consciousness and I start to wonder.
Let me introduce Riley (aka Justin) Dennis, a self-styled male to female transgender activist and feminist, who 'identifies' as a 'non-binary woman' and lesbian. Fair enough, it's okay with me if that's his/her/hem's (whatever) choice. However it seems that s/he's not content just to get on with things. S/he wants to dictate the terms upon which everyone else must relate to him/her/hem (oh ffs!). https://www.youtube.com/watch?v=2X-PgHSZh6U
Check out this example, in which s/he claims that dating 'preferences' can be discriminatory.
Now Riley's discourse is a bit hard to follow, but I think the gist's this; you're discriminating if you won't date a transgender person purely on the grounds that they're trans, rather than on the basis of the qualities that they demonstrate as an individual. Got that? Well I'll grant that there's a certain logic to the argument, but in return, I must be granted the right to disagree.
Here's the thing Riley. Stop obsessively over-analysing everything when it's very simple. I don't give a fuck how you and those like you live your lives, or what you identify as. In return, stop spouting more 'identity politics' b/s. Give it a rest, and stop trying to project your hang-ups onto everyone else.
Society hasn't somehow conditioned me over the years to develop an unconscious bias towards you. It's not discriminatory behaviour because I won't buy into your agenda and acknowledge this supposed 'bias'. Think about this the other way around. I can like a transgender person on the basis of their qualities as an  individual, without being physically attracted to that person. I like a woman to have a fanny in her pants as opposed to a dick. That doesn't make me 'transphobic'; it means that I don't fancy you. It really is about preference; it's my choice, just as it's yours to wear a dress. If I may paraphrase the old 'Stonewall' ad; 'most people are straight. Get over it'.
Nominated by Ron Knee