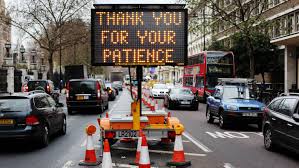 Random roadworks and all who sail in them are cunts.
At least once a year some cunts decide to have some roadworks on my B-road commute. This year's effort exemplifies the methodology.
1. Place cones, warning signs, lights on randomly chosen constricted bit, preferably adjacent to junction (closed)
2. Carefully tune lights to allow three cars in either direction past (5 seconds) and adequate time for a pedestrian to traverse the 20-yard coned bit (1 minute, minimum) with both lights on red for most of it.
3. Alternatively tune lights so that east or westbound traffic gets a red all the time and has to use its imagination.
4. Do absolutely fuck-all to the road for a week. Unless you like playing with the hazard lights on your van/truck as you block the road completely to inspect the cones. It is imperative that the surface of the road remains untouched for this period. You can move the cones around a bit if you like.
5. Enjoy the two-mile tailback of people trying to get to work in the morning. This is optional. If you want a lie-in, feel free.
6. On Day 7, dig a very small hole and fill it in again. You can dismantle the roadworks after this, but on the other hand you may decide not to.
Is there any reason under Dog's heaven why the traffic jam needs to happen on any other day than that of the actual works? And what festering management box is ticked by the CO2 and particulate emissions added to the normal quota by the inching-forward line of poor cunts trying to get to their own jobs and do them rather better than the braindead cunts in charge of highway repairs?
It's uncivil engineering, and it's a cunt.
Nominated by Komodo