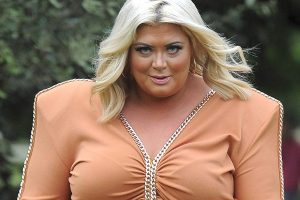 Society is truly crumbling around us, a highly obnoxious toad wrapped in a camel vomit sauce is seen as a idol to some.
My first instinct is to wish someone continuous prosperity when they are doing well. A good job, a nice house, those sort of things. However when I see someone like this twat, I don't get it. I see people working away in hard jobs earning a salary in a year that this hog wastes in a month and I ask myself, why? What is she offering that others can't?
Television has changed, in my opinion not for the better, there are more channels than before but it's quantity over quality and the likes of the shite she's involved in are a prime example. Cheap to make, advertising revenue rises and the masses continue to engage in such terrible programming. A vicious circle that's bursting at her waist.
To be fair she isn't the only self important twat on television, there are many but if I could pick one person as an example of a rapid decline in entertainment then she would be it.
Nominated by John Cleese the 4th
'The GC'
Let me count the ways I hate this fat cunt.
I've never even watched the dross she made her name in. And yet I know everything about her:-
she's fat
she's ignorant
she's obnoxious
she's completely devoid of any talent whatsoever
she can barely string a sensible sentence together without doing that young cunts thing of starting every sentence with, 'So,' and every other cretinous word out of her fat yawning maw punctuated with the word 'like'.
Nominated by Mecha-Rigsby
A larger than life, with extra generous gusset , cunting please for the vile obese old trollop who wears more slap than Anthony Blair would when he is playing pantomime dame. A revolting blow-up doll wanabee Hardly a day has gone by in 2019 when this talentless old hag has not wormed her monstrous carcass on to the front page of the British newspapers, by either acting, doing or saying saomething outrageous "I'm bigger than the Beatles" well, yes in terms of sheer weight she must be, but what is so worrying is that stupid cunt, known for reality TV and Dancing On Ice, seems to believe her own publicity.
I am sure ISAC writers could disabuse this fucking daft notion she has?
Nominated by W. C. Boggs