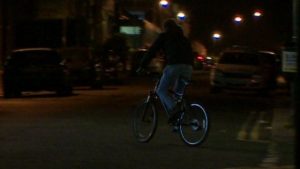 Bad cyclists deserve a nomination. Those who do the following :
Don't wear helmet.
Don't have lights at night, of if they do, some tiny flickering pale green thing at the front and nothing at the back.
Don't stop at lights, junctions, zebra crossings.
Don't signal.
Weave in and out of traffic without looking.
Cycle on pavement and expect you to make way for them. I recently told some tosser to fuck off when he told me to get out of the way (had no lights on either, twat).
Yack on mobile phone, or even worse texting.
I no longer look out for cyclists at night. If they don't have lights and I knock them over, then fuck them. I'll sue them for damage to the car.
Also a nomination for grown men who ride on those stupid tiny stunt bikes. Usually some twentysomething twat with a straggly beard, tattoos and a beanie, whizzing down the road whilst standing on the pedals at a crazy angle. Get a bigger bike you tossers !!
Nominated by Mystic Maven