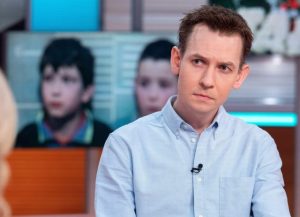 Vincent Lamb
"Who?" You might ask. Well until yesterday I had never heard of him either. According to his imdb page he's an "award winning director and producer from Ireland". He's now come into the public eye thanks to his latest project, Detainment, which is about one of the most horrific crimes in the history of the UK; the murder of 3 yr old James Bulger. He claims the film was made to get a "deeper understanding" of the crime and the two 10 yr olds who did it, which to me translates into "humanise" them.
Lamb has also admitted that he's never spoken to either of little James' parents before making the film, stating that if he had spoken to them then it probably wouldn't have been made. And now, to add an extra gut punch to them, the film has been shortlisted for an Oscar!!!
If Vincent Lamb had any measure of human decency he'd request the film to be pulled. But then again if he had any measure of human decency he never would have thought about using this topic to boost his career in the first place!!
Nominated by Cunt me in