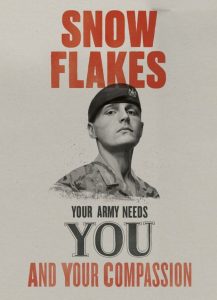 Our New Model Army
Difficult to type with a mouth full orf puke but will man up and get on with it. Latest MOD brainwave to transform the forces into a new and inclusive body orf individuals is to recruit snowflakes and druggies. Can take it up the arse and up a vein? Then Your Country Needs You. Sign on the dotted line (or virtually if of special needs) and gain access to some pretty hard core weaponry. You Know It Makes Sense (or was that an earlier campaign). Man Hugs promised before and after every firefight sweethearts.
So it has come to this. Blighty has fucked Napoleon and Hitler, screwed the Argies and assorted camel shaggers, continues to piss orn the Ruskies and all by the skin orf our teeth time after time. But now withoit a shot being fired the forces have lost their bolloxs courtesy Cunts in the Ministry and a bunch orf pooftahs in advertising.
With a New World Order and New Enemies plus plenty orf the Usual Suspects our New Model Army stands ready to embrace all races and creeds, all sexual orientations and none. So inclusive that we are no longer able to tell our allies from our enemies so we offer counselling to both.
A word orf advice to today's Lads and eh…. Lassies from an old cunt who has done his bit: save your last bullet for yourselves and keep one up the spout for poor old Blighty. Posthumous counselling will be available once Cromwell stops spinning in his grave.
Nominated by Sir Limply Stoke