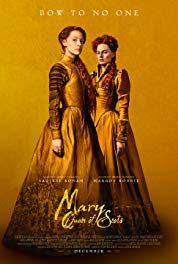 I'd like to nominate the upcoming wimmenzs vehicle – the "Mary Queen of Scots" film – for a cunting.
Marr had the Aussie woman playing Elizabeth 1st, the Oirish woman playing Mary Queen of Scots, and the progressive woman director of a new film detailing the history of the two monarchs.
Well apparently both women were #metoo victims of misogyny by men.
Well I don't give a fuck about the Scottish one but – as historians for the last 400yrs all attest – Elizabeth was nobody's fool and would have anyone, male especially, killed to death for deceit and/or treachery.
The whole country came to love her and she has been one of the strongest leaders the country has ever known (please note that that is across both sexes).
We have had a proud history of strong female leaders from Boudicca to Maggie Thatcher (far greater than many of their male counterparts) so what the fuck is this bullshit all about?
As with most feminazi propaganda, why let the facts get in the way of a good "all men are baaaad" harpie shrieking story!?!
Utter bullshit which sullies the reign of one of our greatest monarchs as being an oppressed woman – which couldn't be further from the truth!
Cunts!
Nominated by Rebel without a Cunt!