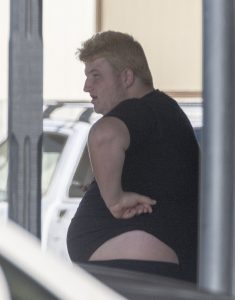 The Doran family make you proud to be British.
The gypsy scum roll into New Zealand to wreak havoc on the locals and then have the unmitigated bare faced gall to complain about their treatment after the New Zealand government served them with a deportation order.
These feckless fuckers are even threatening to sue the the Kiwi government after they described the family as 'scum' and 'worse than pigs'. So what did they do to deserve this?
Well, they trashed a beach, threatened locals, left restaurants without paying, trashed the apartment they were staying in, got arrested for assault with a weapon, reckless driving, theft, and fraudulent use of documents.
To top that off, they threatened to 'knock the brains out' of locals, trashed their hire car and threatened to assault a cameraman. Another favourite trick was to drop flies and hair into food to avoid paying – although I would have thought that was the way they normally ate?
Amazingly, we let these cunts back into Britain where they threatened to smash a press man's camera – although to be fair they were pissed on Red Bull at the time (6:30 am). They then sounded off about going to the CAB and Court of Human Rights – no doubt on legal aid as we're just fucking stupid enough in this country to let them.
A simple question has crossed my mind tho' and that's how the fuck did this thieving scum afford the trip in the first place. Perhaps HMRC could ask them?
Nominated by Dioclese
This is beyond Monty Pythonesque!This is sheer cunty piss-taking by British Tourists at its finest.
These knob-ends caused a furore the length and breadth of New Zealand getting all up in the face of the locals: Kiwis hate confrontation, can't take a timely sledge and are very protective of God-zone. They won't take trashing of the nation lying down.The UK, after, all, did send its finest to the Land of the Cunty Long White Cloud to do a whole lotta mutual shit kicking with the natives, after which they settled their differences and intermarried and generally avoided the incestuous interbreeding of criminal lines and subjugation of the natives, those poor cunts, the Abos across the Tasman, (Fuck Australia Day), but that's a whole 'nother cunting in the wings.
Anyway, both Whiteys and Maori alike are very protective and territorial. We know how to fight, and fight dirty but the cunts don't always like to buy a fight so these Priceless Touristy Cunts did a right good job outraging the locals and flushing the natives out all over social media in droves. These cunts left trash everywhere they went and hotel rooms smelling of 'poo', culminating in the Mayor of Auckland, Phil Goff calling the family "worse than pigs".
(BTW Goffo is a grubby cunt who's a serial trougher from the way back so he is one to talk) One hand on his meat hook and the other in the public purse since way back.
It started off with the family leaving litter on a beach and the locals (A bunch of white suburban entitled cunts got precious and the kids basically told everyone they encountered to fuck the fuck orf. One of the kids stole a plastic Christmas Tree from a gas station and threatened to, "knock the block off", a concerned local who filmed them at the aforesaid beach.

It all degenerated from there and the family was approached by Immigration New Zealand after they allegedly left a trail of destruction in their wake. This almost triggered a race war between NZ and the UK. These clowns were the subject of racial slurs and got called Irish and Gypsy scum. I've got gypsy blood and dat don't bother me, in fact, I find it as amusing as fuck, as it's what I did back in the day as a student. Leave my trash behind, score free meals and go incognito. Joe Doran, with a new blond hairstyle, told the Daily Mail they were being blamed for "everyone else's doings".
Canny Cunts. You've got to reserve your cash. NZ is an expensive Socialist Island nation.
Today they landed back in the UK

"It's been the holiday from hell. It's lies, they've condemned us. We've been hiding in the mountains for two days. We wanted to see the Hobbits, Lord of the Rings, didn't get to see that." Cute.
And:
"He told the Daily Mail they were going to go to the "Citizens Advice people and the Human Rights people".
Whether you want to hug 'em or hurt, 'em, this UK family is a bunch of Fucking Funny Cunts. Big ups for dodging the pillorying in the offing. Even going so far as dying their hair.
Nominated by CaliAngel