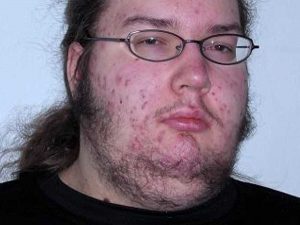 Neckbeards.
Flaccid, flabby (not necessarily fat) young men unable to manage decent stubble growth due to low testosterone, who address their close friends as 'sir' and 'madam' and in other overly deferential terms . They usually have dirty, long unstyled hair, and go on about wearing monocles and cravats and spend their social life snorting and hooting about the latest shit memes and the comedy of Richards Herring and Ayoade at the back of a Games Workshop branch, but have never visited a pub, raised their voice beyond their bedrooms or wargaming club, or a pint glass.
Can't make eye contact with a woman who isn't their mum, or whatever obese, shrill and mentally ill blue-haired thing they call a girlfriend, even when merely ordering food or drink, mumbling and murmering their order to the increasingly appalled barmaid/waitress, who the neckbeard is now convinced hates him.
The neckbeard has trouble holding down even a minimum wage job or working full time. He finds 'traditional masculinity' (which he abbreviates to 'trad. Masc.' offensive (threatening) and doesn't speak to his father. He is careful to avoid contact with any older male who looks like they 'work/worked for a living'. He is also hugely resentful of men his age with well paid, full-time employment and good-looking girlfriends, who he will denounce as a 'normie' or 'chad', if his involuntary celibacy has completely crippled him to such a sorry, infantile state.
Fucking neckbeard cunts.
Nominated by Cuntamus Prime