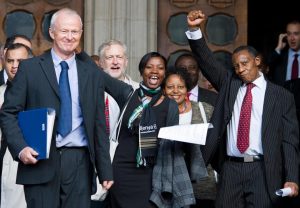 British Law Firms persecuting British Servicemen
In particular, Martyn Day and his law firm Leigh Day, who are perhaps the ultimate 'Social Justice Warriors' – selflessly fighting for light, truth and justice to make sure that the hideous crimes of the Iraq War (or those committed by our side, anyway) are put right, with nary a mention of the £20 million they are likely to trouser for their noble deeds.
This is a British law firm which has already made £11million squids by raking through the dirt and driving a 'witch hunt' against British servicemen alleged to have mistreated Iraqi citizens during the invasion and occupation of that shithole.
"Leigh Day has successfully brought 330 civil cases relating to claims of mistreatment of Iraqi citizens by British forces between 2003 and 2010, earning the firm millions, co-founder Martyn Day told the Defence select committee today.
He added that there are likely to be a further 475 cases which can also be successfully brought against the MoD. The final sums paid out of taxpayers' pockets to Leigh Day in costs alone are expected to top £20 million. The MoD has already made payments of £20m in damages to Iraqi victims while the final bill is likely to be millions more"
I don't imagine any of this readership is naïve enough to doubt that a very small minority of the troops deployed – from every nation that made up the coalition forces – may have behaved badly towards the unfortunate soldiery and citizens of the place, but it really does stick in the craw to see a bunch of opportunist cunts like this 'chasing the ambulance' and making a very tidy sum for their troubles. Whatever the details of each individual case, the demoralising effect that this shit has on our military is significant, let alone the financial cost of challenging and defending the cases, and paying the fines and costs incurred.
A firm of 500 hawkish legal types using all of their snake-like skills to rake up the dirt and blacken the reputation of our service folk, and being paid handsomely when they manage to defeat in Court some chump from the Army Legal Service and a bunch of errant squaddies.
I can't quite see a similar arrangement being so well tolerated by the French or Israeli governments – or any other country that hasn't gone all Graham Norton about a bit of a scrap a long way from home.
Meanwhile, those of our own who have come back minus a few working parts or with the ever more prevalent 'Mental Health' issues, face a long road to recovery and the even more terrifying prospect of being picked for the Invictus Spackalumpics and having to run, jump or swim just to amuse the Ginger Prince and his evil henchwomen Clare Baldything.
My only consolation is that, because I don't live in Baghdad or Basra, I haven't been bombarded with nuisance phone calls from these 'No Win, No Fee' cunts whose 'records show that you were involved in an incident that wasn't your fault' and offering to get me my 'rightful compensation' for the dreadful things done to me by the British Bastards who were inconsiderate enough to come and rescue me from a murderous tyrant in the first place.
Yet.
Nominated by Gunner Sugden