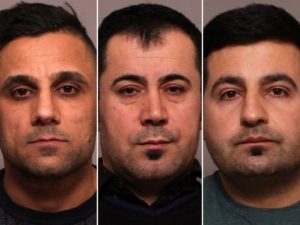 The Leicester Three
Three men have been found guilty of murder after setting fire to a shop in Leicester. Petrol was used to start the fire, and the resulting explosion caused the deaths of five people. The court heard that the shopkeeper and two friends destroyed the property in an insurance scam because the business was failing. According to the prosecutor, 'the devastation caused was carried out with the intention to kill'.
Clearly these callous brutes were completely driven by greed, and acted without any sense of human decency whatsoever. The full authority and weight of the law must be brought to bear to ensure that these monsters can never again present a threat to society.
Time to name and shame those responsible as Aram Kurd, Arkan Ali, and Hawkar Hassan. Er, hang on… How could these men ever hope to receive a fair trial? Clearly they're hapless victims of repressive white privilege, of a patriarchal justice system that is inherently fascistic and institutionally racist (burble). Right on I mean right thinking individuals everywhere (blah) must stand and fight this bigotry in the name of Social Justice. Social Justice Warriors unite! Free The Leicester Three!!
Nominated by Ron Knee