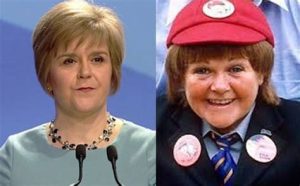 Nicola fucking Sturgeon
Just listened to this entitled harridan on R4 demanding that the Labour Party do her bidding and support another referendum.
She is not an MP.
She sits in a Mickey Mouse assembly of misfits representing an economically negligible part of the UK.
(by the way, as is usual in these matters, challenge came there none from the Today presenter)
Isnt it time we made the SNP absolute rulers of the UK? They seem to be more important than the rest put together.
Sturgeon – Useless cunt with no self-awareness.
Nominated by Cuntstable Cuntbubble