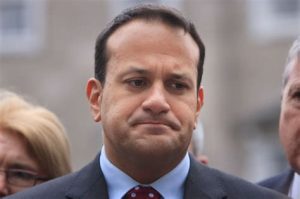 Leo Varadkar. What a cunt of ocean going proportions.
He's been back on today…our uber important Indian leprechaun telling his closest neighbours that there's no other deal available to the Brits. Listen here you fucking little weasel…..you're only a useful idiot to the EU at the moment. Be very fucking careful as when this shit is over and you become the hangers on of Europe again we will see how the EU treat you then when they come in and remove your tax haven rules that attracts all those Apple and Google-esque conglomerates to your shores. But even worse than that, your behaviour to your neighbours who not so long ago bailed you cunts out to the tune of £3 . 2 billion( irrespective of interest gained.) is what you should fear. For if my fellow Brits are anything like me then you're fucked and can go get fucked….. because I will never forget your fucking behaviour . You are now thought of as a people to me no different to a fucking Albania or Lithuania or whatever backward shithole. In my mind you're at that level now.
Siding with the bully in the playground only works as long as the bully is in school. Your fucking freedom of travel agreement with us should be ended as of fucking now and the loan called in. I for one will never spend £1 of tourist money in your turncoat land again you posturing bag of pish and wind.
Good luck stopping your youth being drafted into an EU army after sitting out the last big fight you would be speaking German cunt.
Nominated by Squint Cuntwood