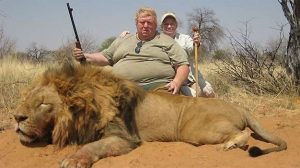 Animal trophy-Hunters are cunts, aren't they?
We know our Yank cousins just lurrrve guns but the displaying of it is distasteful and vulgar. The latest American barbarian, Larysa Switlyk, has posed in Scotland boasting about shooting a goat, a ram, and a stag. She then posed for photos grinning like the cunt she is whilst clutching the still-warm corpses. What courage! There wee photos of previous "hunts" where she's hugging the limp cadavers of a moose, an alligator, a reindeer, and a peacock. A PEACOCK!
I know certain animals like deer have to be culled but this is fucking sick vanity.
A few years back we had that Yank dentist who fancied killing yet another lion. The unapologetic scumbag performed his courageous act with a bow & arrow and consequently Cecil the lion had a slow, agonising death. What valour!
Recently there was another Yank bitch who bravely shot a giraffe in South Africa then proceeded to gurn beside its flaccid body.
Why would anybody do this? The murdered animals aren't going to be eaten, these tourists weren't being threatened. Are these cunts' lives so empty they want to mistreat and murder sentient animals?
There is an argument that says that the money raised in hunting can be used to preserve wildlife blah blah. Personally I say for "sport-hunting" read 'The massacre of animals.' The photos of these odious cunts are obscene; photos of detestable, attention-seeking, cunterous cowards.
Nominated by Captain Magnanimous