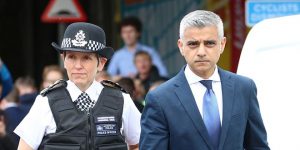 I'd like to nominate bus driver's son (not that he ever mentions that) and our very own Mayor of Londonistab for his weekly cunting.
This week: the re-emergence of "Stop and Search" but in it's new guise of "Stop and Search Lite".
Basically plod can "Stop and Search" again providing they have a very good reason to do so, and, so long as they're wearing a body cam to record the process.
The cameras I'm all on board with so that when the yardie boys get all "gangsta wiv Five-Oh in'it bruv" it's recorded for all to see. There will be far more incidents of this (as there always was in the commoonitteeee) than incidents of police brutality (as every case of stop and search was falsely reported as from da' commoonitteeee).
My problem is: define "very good reason"?
Luckily there was an "Abbott Lite" type on the AL-BEEB to assist with this: "Well if they like smell a bit of contraband or summink, in'it, well that wouldn't be grahhhhnds to stop and search like. In'it." – seriously that was exactly how eloquently it was put.
Other salient instances were: "Jast'angin' wiv their mates, in'it" and basically any other form of shifty behaviour that plod used to be good at identifying before being emasculated by the PC and right-on governing bodies.
So basically "Stop and Search" is back but if you "Stop and Search" anyone from the demographic most likely to be a stabbie bastard then it's off to the Police Complaints Commission for you matey, with plenty of tribunals and re-education courses to follow….
Knowing this, how many people think that "Stop and Search Lite" will reduce incidents of stabbings in the stab capital of the west???
Answers on a postcard to:
WHY DON'T YOU JUST RESIGN SADIQ!
USELESS CUNT!
P.O. BOX CUNT!
Nominated by Rebel without a Cunt!