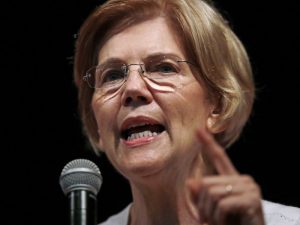 In case anybody is wondering, Elizabeth Warren is a Democrat Senator in the US, who for years has claimed to be of Native American heritage, specifically, Cherokee and Delaware. This has led to much ridicule from various people across the pond, who have nicknamed her 'Pocahontas' and 'Fauxcahontas'. Of course, lefties have fallen over themselves to accept her patent bullshit, to the point that Harvard began to refer to her as a, 'Person of Colour', despite the fact she's clearly as white as arctic snow.
Now, to prove her claim, she's had a DNA test. Depending on whether or not you're a dipshit lefty, the result is either 'strong proof' as Warren claims that she IS of Native American heritage, or it's proof that she's talking shite! Are you ready for this? The DNA test has revealed that Warren is between 1/64 and 1/1024 Native American. That's actually LESS than the average American. In other words, she's between 98.44% and 99.9% White.
Of course, that hasn't stopped the BBC siding with Warren, they're reporting this bollocks without giving specific facts. Unfortunately for them, and Warren, the Cherokee Nation have taken a different view, and rejected her claim. Oh dear. And as the Cherokee are Native Americans and therefore, 'People of Colour' as lefties like to patronisingly call anyone who isn't white, they can't possibly be wrong, can they? I dare say that this revelation won't stop Warren from making the claim that she's not entirely white, but the fact is, I have more Native American DNA than she does. My great great grandfather on my American dad's side was Cheyenne. Though I'm sure if I actually bothered with the test, the Native DNA it showed would be minute, which is why I never claim to be Native American. I'm not. Elizabeth Warren does. Which is why she's a cunt.
Nominated by Quick Draw McGraw