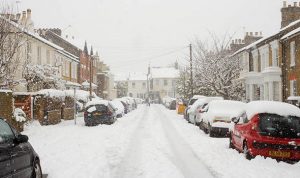 In the interests of balance, since we cunted those who disliked the hot weather earlier in the year, I'd like to nominate the opposite cunts who do nothing but moan about the cold weather.
This year, we've staved off the cold longer than most previous, with only late October truly yielding the fruits of Autumn and Winter. And now finally, we can enjoy the picturesque colours on the changing foliage; the unmistakable, intoxicating smell of evening autumnal bonfires; the brisk mornings; getting in from the cold and into a warm living room to watch your favourite porn. Autumn is truly a glorious time of the year.
Except, of course, for the usual cunts who truly believe that anything lower than 16ºC constitutes Arctic research outpost tier. The fucking shitcunts. This year, Summer was largely unbroken 'twixt late May and late September. 5 months of high temps and endless fucking sunshine. And that still isn't enough. Still the cunts like Lucy 'too cunting annoying to want to root' Verasamy, and her meteorological cunt brethren, deliver news of Autumnal climates on the weather forecast as a dreadful, doom-laden tiding.
These fucking Summer-obsessed cunts, always hanging on for dear life in March, desperate to the point of fever pitch for the first rays of sun and taking them as the instruction to crack out the fucking flip flops and sombreros. Fuck off and and pack the deckchairs up your well-used arses.
In the same way some of us had to suffer the endless fucking sleepless nights of unforgiving humidity and blinding morning light at 4:30am, so too can you cunts suffer the endless dark of Winter. Just stop moaning about the fucking cold and get the fucking Campbell's soup on the hob, bastards.
Fuck me, I love this time of year. If I could choose how I died, I'd probably opt for the blissful comfort of hypothermia.
Nominated by The Empire Cunts Back