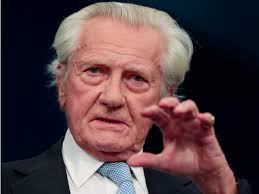 The decrepit old cunt has written yet again for George Osborne's comic (The Standard).
This old wankstain has as much reason as Mangedbum to fear leaving the EU (in his case his private vanity project arbortoreum) , Mandy's is his EU old age pension.
Heseltine is a cunt of the first stripe he never shuts his 84 year old mouth up. George Osborne's Standard is almost the equivalent of the wank mags beloved by teenagers, he is forever tossing himself off over the EU and for him to see the stumbling shambling drunken Junker, is as big a thrill as a 13 year old looking at the centrefold of Big and Bouncy.
Heseltine was instrumental in getting rid of Maggie which was unforgivable – we so need somebody like her now. But that the old motherfucker continues his hypocritical rantings and that makes him a 24 carat boring cunt.
When Brexit comes Osborne will go – the useful idiot editor will have lost his usefulness.
Nominated by W. C. Boggs