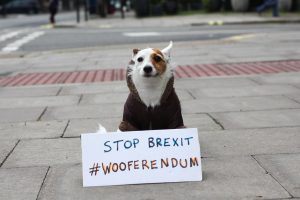 An emergency cunting for the league of remoaner tossers who've descended on Parliament today, with their yappy little Yorkshire Terriers, Shit Tzus and Bicon Bitches (you made me look those up, you cunts!). I'd love nothing more than to steel toe punt these pathetic little butt sniffing cunts over the horizon, along with their repulsive owners.
Apparently Brexit means less veterinarians and over priced wanky dog toys. Personally I couldn't give a toss so long as there's no shortage of doggy bags to keep my local kerbs relatively link free. If all these frivulous novelties get more expensive and less cunts buy these rugby ball sized stanky mutts as a result, then I'm for Brexit even more!
I hope Westminster council saves all the full doggy bags from today and hurls them up on to that cunts 'Bollocks to Brexit' sign at Pimlico Plumbers.
Nominated by The Big Chunky Cunty