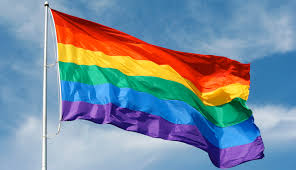 A cunting please for the people who have misappropriated the rainbow and fine English words.
I wrote recently about a visit to a local hospital, there was a rainbow flag flying from the flagpole, which I found annoying. What's wrong with the English flag or the Union Jack ?
Yesterday I was stood in the queue at the local branch of Santander, idly watching the information screen whilst awaiting my turn, when lo and behold !! a rainbow appears on screen with the words "Santander supports Pride ". This really fucks me off. Deviants are taking over words and symbols for their own sick ends. There's nothing nicer in nature than a rainbow, saw one the other day, marvellous, but now it's been taken and used as a symbol for bumfuckery.
It's the same with words, take the word gay, years ago, if you said you'd had a gay time there was nothing sleazy about it, it just meant that you'd had a great time at a picnic or a party etc. now, people take it to mean that you've been indulging in aforementioned bumfuckery, the result is a perfectly good word stolen. The same thing is happening to the word "pride ",a fine word, but again, one that is being stolen by the homosexuals for their own use. Where's the fucking pride in having a bloke up your arse ?
So fuck off you homosexual cunts and use proper words and symbols for your practices.
Nominated by Jack the Cunter