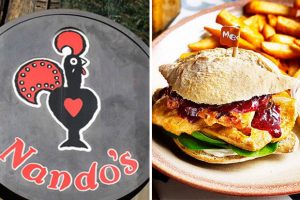 Nando's is a cunt, isn't it?
People love Nando's. This is evident because what people who love Nando's love even more than Nando's is talking about how much they love Nando's.
Enter the under lit world of this corporate South African restaurant, solely obsessed with their profit margin: The customers are the least discerning morons you'll meet, a quagmire of cheap trainers, blubbing toddlers and couples eating peri peri sauce on baked cadavers while staring at their mobiles. You have to serve yourself drinks like a fast-food shithole yet you pay full restaurant prices. Chicken'n'chips for 13 Quid. Clever – unlike the corpulent, spotty families stuffing down corpses of fowl caked in sugary abattoir-flavoured sauce.
"Heyy, have you ever been to a Nando's before, guys?"
"Fortunately, no. Could I order a wretched quality, previously-caged chicken with no value for money."
"No problem. Pay before you eat so any posthumous complaints are meaningless and fetch your own cutlery and drinks. Enjoy."
Nando's is KFC for the lower-middle class. Too snobby to eat at a café but too poor or stingy to eat at a decent establishment.
The choice: Spicy enough that it'll be the worst episode your anus will have ever experienced; or lemony enough that it tastes like an aeroplane wet wipe serviette.
Then there's the smell. Even walking past makes you want to pebble-dash the pavement. Inside, the odour of a thousand sour farts hangs pungently whilst ugly hipsters with empty lives Instagram their sorry imitation of food.. Hopefully the awful stench repels any cockroaches/fruit flies/beetles, though not from the rumours I've heard.
▪
Let's go for a Cheeky Nando's!
No thanks. I'd rather have my fingernails pulled off and eyes gouged out with a rusty spoon than visit that over-priced, over-salted, over-hyped, over-rated purveyor of processed, battery-farm faeces.
Nominated by Captain Magnanimous
I used to happen to like Nandos on occasion. However as my old mate pointed out, they serve halal chicken. I looked into it. In certain restaurants they serve only halal as in Leicester. But they say they can't guarantee not serving halal in restaurants in non peaceful areas where they have a supply problem. That's why it's a cunt. You wouldn't know if your nosh was halal or not. Halal butchery is enough to make you go veggie. It's a cunt.
Nominated by Alan Fistula