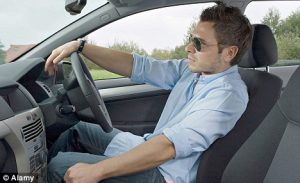 Leaner Drivers
No, that's not a typo or misprint. Drivers who lean into a corner…
I've been aware of the prevalence of this unfathomable behaviour for many years now and can only thank the inestimable IsAC site for the opportunity (possibly) to draw attention to it.
I see Leaner Drivers at the traffic lights just down the road, virtually every day. People who, when behind the wheel of a vehicle, seem to be trying to entice the car around a corner by leaning over to the desired side, tilting their bonce to such a ludicrous degree that barely an earhole is left visible above the dashboard, instead of turning the fucking steering wheel* – thus ensuring their vehicle describes the widest possible arc around the corner, missing the apex of the bend by, on average, 7 light years and scrawping merrily down the door handles of any poor cunts waiting in the adjacent lane.
*Ah yes – the steering wheel – that big circular effort right in front of you (assuming your IQ allows you to be sitting in the correct seat to be driving). Go on, give it a try – turn the fucking thing – that's what it's there for – it makes the car go from side to side. Keeping your hands in the same position, leaning over as far as you can and "willing" the car to go around the corner doesn't achieve the same effect, you gormless cunt.
Fuck me – how did these cretins ever get a driving licence ?
Nominated by Cunt Reviled