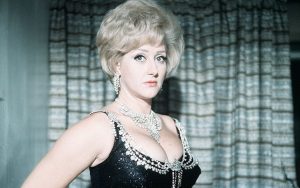 Congratulations to Pedantic Cunt who correctly picked Carry On's favourite bit of fluff, Liz Fraser, who passed away at the age of 88.
As Norman puts it so elequently in the comments below : "Worth all today's celebrislags put together"
So we move on to Dead Pool 112.
Here are the rules (pay special attention to the first one):
1. Nominate who you think is the next cunt on the way out. You can have up to five choices. List your nominations in the comments of this post. It's the current Dead Pool. Comments not in this post (e.g. in the previous one or other posts) will be ignored!
2. You win if your Cunt dies first.
Then the slate is wiped clean and we start again. Of course, you can always be a really annoying cunt and steal someone else's dead cunt candidate from the previous pool (like Black and White Cunt frequently does).
3. It actually has to be some newsworthy cunt that people have actually heard of!
Oh, and the usual "Our Blog Our Rules" thing applies.