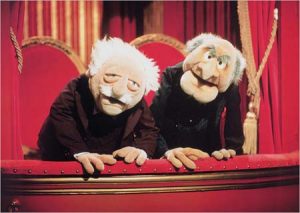 I have a nomination for two dickheads that most of you will probably have never heard of. Paul Taylor of the Independent, and Tim Bano of The Stage. They are paid to review theatre productions and other luvvie shite, but that hasn't stopped them from branching out into the Cuntland of anti-Brexit bigotry.
In a review of Othello at the new Globe Theatre, starring uber luvvie cunt, Mark Rylance, Taylor wrote;
"The moustache belongs to the kind of bar-room bigot who will, of course, have voted for Brexit. It's not Othello's race but the fact that Andre Holland is foreign – an American who speaks with the accent of the deep South – that eats at Iago."
And Bano's review was similarly disapproving of Brexit voters;
"He brings a kind of Brexiteer vibe to the character, a Middle England reactionary who hates Othello because he's foreign – here, American."
Bar-room bigots who hate foreigners? As I've said before, I have no problem with people disagreeing with Brexit. I do however have a massive problem with ignorant, arrogant pricks like Taylor and Bano, who make sweeping, and incorrect, generalisations about Brexit voters. Taylor and Bano are the type of person I despise on sight. University graduates, who consider themselves to be intellectuals, and therefore superior to us poor plebs, simply because they can put letters after their names. Well, as it happens, I can put letters after MY name, MM and MC. I don't do it very often, but I have that right.
They're the kind of patronising shits who claim to stand up for the working classes, but seem completely oblivious to the fact that it was the working who predominantly voted to leave the EU, and it is the working who are they are writing off as nothing more than drunken, small minded, intellectually inferior racists, who voted to leave the EU simply because we hate foreigners. I explained in a previous comment why I don't hate foreigners, so I won't repeat it here.
If you want to disagree with Brexit, that's entirely your business. I've had some interesting and good humoured debates on the issue with friends who are against it. What you do not have the right to do though, is slag off 17.4 million people who democratically expressed their wish to leave an organisation that we saw as taking far more from us than they were giving back. And what they did give back was generally a pile of shit. And while it's true that very small number of Brexiteers do seem to hate foreigners, they are very much in the minority. The vast majority of us are decent, hard working, honest, law abiding, taxpaying patriots, who simply want our country to be governed by people who WE elect, to able make OUR OWN laws, and most definitely to negotiate OUR OWN trade deals.
We do not need, nor to deserve to be sneered at by overeducated, self-righteous, superior minded, self styled 'intellectuals'. All they do when they sneer and insult us, is show us what ignorant, arrogant democracy hating cunts they are. I'm going to bed with my Nigerian princess now, I hope you all have as good a night as I will. And I hope Taylor and Bano fall straight down from the top of the superior tree.
Taylor are Bano are not superior to any of us.
Nominated by Quick Draw McGraw