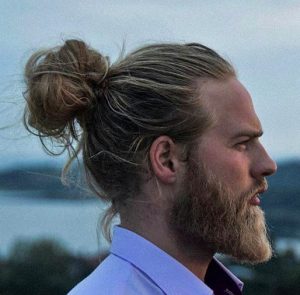 In the words of the Urban Dictionary:
The way of showing the world you are a twat without having to speak. Also known as Douche Donut
The full horror of these has just been demonstrated to me by the twentysomething 'mate' of the dismal eighteen year old living with his flaccid parents across the road, stepping out of his badly-parked car, and, with the high probablity of such visitors being a county line operation, presumably bearing a selection of chemicals for distribution by said dismal youth.
Why in the name of fuck does anyone want to look like a carelessly shaven terracotta warrior from the Quin Dynasty? Who or what are they trying to impress, and how? What possible kudos can attach to a cunt who in all other respects resembles a Super Mario addict, who is topped off by a bundle of unwashed hair modelled on an old-fashioned dishmop rendered useless by falling into the chip pan during the lard era? Does this cunt live on quinoa or heroin? Impossible to tell.
A blight on any pleasing prospect, far uglier than an equivalent volume of fresh air, I know this cunt is a cunt without having even to speak to him. Thank god for that, anyway. Supreme hermaphroditic cunt, because simultaneously a massive knob.
Nominated by Komodo