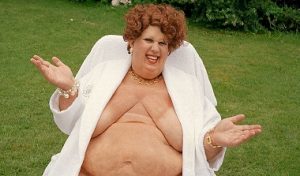 If you have ever had the misfortune of travelling on the Tube during rush hour you will have met Fat Cow. She is on every train and at every station.
Most people, as their train arrives at their destination already have their ticket/pass in their hand but not Fat Cow. FC waits until she is at the ticket barrier before she starts rooting around in her cavernous bag. Naturally she has an arse the size of the Hoover Dam and always chooses one of the middle barriers in order to cause the maximum disruption. Within seconds hundreds of people are backed up, trying to get around her massive frame, bumping into people trying to get through the other barriers.
People have got work to get to, buses to catch but does Fat Cow care? Like fuck she does. Ah, there's my purse, now which pocket did I put my ticket in?
Fat cow is at every station and, no matter how quickly you run up the stairs the bitch always gets there before you. Fuck knows how but she does ,that's all I know.
I want this fat, stupid, self centred, socially unaware , thick as shit porker taken out and shot!!
Total cunt!
Nominated by Freddie the Frog