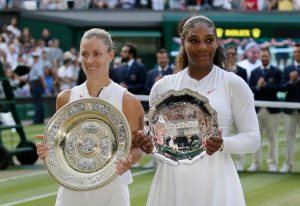 I don't know if Womens tennis has been cunted before and if it hasn't it's about fucking time it was.
I like to watch a good MENS tennis match but what the women serve up is absolute fucking dross. Thankfully Gigantor Serena Uppity Williams got a kicking in the final by the Kraut Kerber. Get this tho, 1 hour and five fucking minutes!!! Fortunately for the punters who no doubt had shelled a kings ransom for the privilege of watching the winner pick up £2.25 million notes and runner-up £1.25 same as the men got to see Djokovic and Nadal finish of from the night before.
Not only that but the first semi between Anderson and Isner went on for 6 and half fucking hours. Love it or loathe it you have to admit that is some going. So what about tarts tennis then, I've no doubt that any of them would struggle to face up to a game against a low ranked man or even a good wheel chaired man.
The money they get is fucking embarrassing and if they have got to continue to pay this stupid money they should at least make them help tidy up the place afterwards and help with doing the fucking dishes or something. Robbing cunts.
Nominated by Kendo Nag