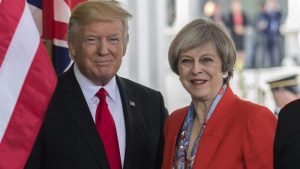 With The Donald gracing our shores with his presence much has been made of our co-called 'special relationship' with the United States. While this may have been true in the past, thinking back to Thatcher/Reagan or even Blair/Bush if your definition of special is a master and hound relationship, "sit, fetch, roll over, invade Iraq".
Clinton had to deal with that grey EU quisling Major, Obama showed open contempt for Britain and having to put up with that swivel eyed cunt McBroon and Pigfucker did us no favours. As Henry Kissinger said "America has no permanent friends or enemies, only interests", the UK being a convenient friendly government sharing a common language to deal with the bureaucratic lunacy of the EU.
The Donald and his "America First" "MAGA" rhetoric show where his priorities lie- and rightly so, he does respect strong leadership and actually listening to the electorate and implementing policies on what they voted for. Maycunt is a spineless sell-out and any meaningful relationship never mind a special one, is dead in the water as long as she keeps Britain in bed with this fucking corpse.
Nominated by – Fuck knows! We screwed up!