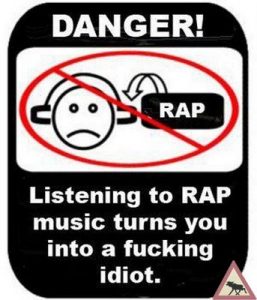 A cunting for 'Rap'
Not because it is shite.
Not because any feral, uneducated bruvver can snarl out vague couplets of half baked illiterate shit.
Not because it rips off 'samples' of actual music to validate itself.
Not because the videos are so disgusting.
Not because of JayZee and all the other talentless wankers who profit from it.
No.
I cunt Rap because it is taken seriously as black 'culture'.
It might be black but it certainly aint culture.
West African rhythms that crossed the Atlantic with the slaves and eventually morphed into blues are black culture.
The beauty of Zulu singing is black culture.
The Blues that spawned popular music and jazz is black culture.
Armstrong, Basie, Ellington and any number of the early Blues singers are black
culture.
Motown and Stax (though Stax was always white/black) were black culture.
Wonder, Gaye, Turner, Hendrix etc are black culture.
Rap is not culture it is childish misogynistic bilge that the mainstream is afraid to call out because of twisted right-on racial values.
Cunts.
Nominated by, Cuntstable Cuntbubble