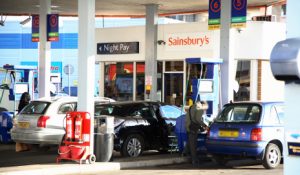 I put forward for a cunting petrol stations with supermarkets. What a fecking pain in the stones they are. I just been to fuel up the mog a job that has had me near apoplectic with rage not only do you have to put up with silly modern cunts that don't know their arse from their elbow and make filling up a major operation, now you have selfish spunkers doing their fucking shopping whilst leaving their car on the pump meaning I have to wait for 15mins as the cunts are deciding what's for dinner tonight, then when they do get back to motor they minge about in the cab with absolutely no idea theres other people waiting. I've just had to bang on window to get a soppy boy with his wrist full of bits string and bangles to get off Facebook and move, cunt!
Post to faeces book was probably " just brought fuel lol".
God I hate everybody modern roll on an outbreak of bubonic plague.
Nominated by Civvydog