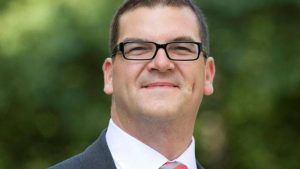 Olly Robbins is a bit of a cunt, isn't he?
Who's this harmless-faced dullard? He looks about as frightening as an arse-kissing civil servant. Who is he and why is he a cunt?
Well, he's a civil servant AND a cunt. He's been one for over twenty years. He is Theresa May's Brexit adviser or, to give him his full title, The incapable and unpatriotic official charged with the important task of extricating Britain from the European Union.
Admittedly, this isn't an easy task; apparently he says he understands that his job is to carry out the orders of the government of the day as smoothly and skilfully as possible. Nonetheless, the rumours are that Robbins regards Brexit as a crisis to be managed rather than an opportunity to be seized.
Recently, Zelda May and David Davis came to blows because of a Brexit document drawn up by Oily Robbins which hadn't even had an end date included on it.
He wants to give in on everything.
Yet Zelda's bony backside isn't the only place Robbins' treacherous lips have puckered to and salivated; this genuflecting sycophant has kissed the arse of FOUR Prime Ministers: May, Cameron, Brown, and Blair, the Lord of Sith himself, have all had the felching treatment from Robbins.
Consequently, we must add this weasel's name to the many unBritish weasels who have done so much to sabotage Brexit and we must place another spike on London Bridge awaiting another traitorous head.
Nominated by Captain Magnanimous