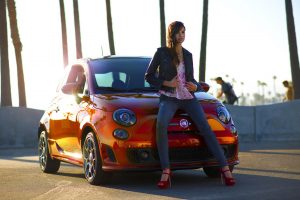 Women driving Fiat 500s are complete cunts.
We have one living next door to us – she thinks she is fucking Sterling Moss, bollocksing up our private road as fast as she can go, gravel spewing everywhere. One day she will run some poor cunt over, that's for sure. Another cunting Doris in a Rosso Red model almost took me out today – again driving too fucking fast near a junction with very restricted ability.
What is it with these soppy tarts when they climb behind the wheel of one of these 'cute' little Iti jelly moulds? They think they are driving some exotic, mini Ferrari. Next one that incurs my wrath will end up with said mini Fiat shoved right up their front bottom!
Nominated by Paul Maskinback