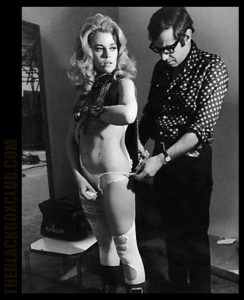 The Cunt that gave me the Clap
Swing back to the sixties – but did it ever? Certainly more characters around and Blighty still stood tall and proud if a trifle long haired. Summer of Love? That was 1967 and I was there but cannot be arsed to post any links. Embarrassing. Summer of Cunt. Moved in certain circles of a chemical nature and out of the remains of me mind recall a love fest that took place in a mews house in London somewhere near Harrods and Harvey Knicks. Little filly with eyes caked in black eye liner. Only defence me lud I was so stoned I shagged it.
Strange thing about a freshly shagged filly they do like to rabbit after. This filly just the same and while I kept dropping orf (as you do) Yours Truly got the life story in full. Daughter of an Italian Countess no less and a working girl. Proud of that and her career as a Groupie. Still active for "special sweet boys" and had just been fucked by Mick Jagger but she "No fuck Jaggaire when I with you". Then she pulled out a package of pills from her sock (yes it was a full socks on shag) and lovingly offered YT two antibiotics "So you no get a syphilis".
Fuck me and live the life. Next morning YT wakes up to the old itching horse prong and a terminal compulsion to piss. Down the Quack's for the full Monty. Blood tests, wire probe up me dong (Christ that hurts), antibiotics by the shovel, never seen the old bastard so happy. Results come back, some Cairo pox or other, non specific (ie they don't know what it is) and no specific cure. Keep taking the tablets and drink two litres of water a day for as long as. Good news is sufferers die with it rather than from it. Oh and no alcohol allowed old son. By the way who was your last partner? Mick Fucking Jaggaire.
Bastard Quack was right, over fifty years later and I still have my little love token from Mick (can I flog it on Ebay?). Like Jaggaire it returns from the dead for Stadium Performances only. Whenever YT gets run down, spot of flu, inflammation of me piles ect, it stages a comeback. Then I sod the Quack and drown it out with a bottle of single malt. A miserable time.
Schadenfreude. Not German techno but kraut for taking pleasure from the misery of others. The definition of a cunt. Hence me pleasure now at the decrepit state orf Jagger. Long lenses snap the ancient cunt wherever it goes or hides. Phizzog a ruin of classical proportions – old man's ears, fading hair dye, skin wrinkled and creased like a bio-degraded condom. The last time I saw a cunt that decomposed it was on a mortuary slab being buggered by Jimmy Saville.
Tee fucking Hee.
Nominated by, Sir Limply Stoke
Admin note, Obviously "keep taking the pills and you will get over it" does not apply, Bad luck old man.