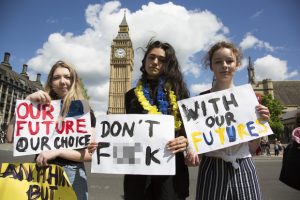 Speaking of remainers. A number of them, who are clearly unemployed, are staging a 36 hour protest outside Parliament. Just when you thought you weren't sick enough of these democracy hating pricks, they go and plummet to an even lower, more pathetic level of tediousness. Happily though, it was briefly enlivened by Tory MP and Brexiteer Andrea Jenkyns marching through their unwashed ranks, meeting their chants of "Stop Brexit" with her own chant of "GO BREXIT"! I would loved to have seen their faces.
Seriously though, I'm now past feeling anger and hatred towards remainers, and am now at the stage where I'm thoroughly fucking bored by their antics. I'm not even surprised by them anymore. There is literally nothing these inbred fuckwits won't do to show us how terrified they are of the UK once again being a sovereign nation. And they are terrified. We've had two years of this shit, and there's still no sign of the dumb fuckers calling it quits. If they put as much energy and enthusiasm into fighting more important things, such as war, poverty, hunger, crime and corruption as they do into fighting the democratically expressed will of the majority, the world would be a much better place.
I'm so bored with this retards, that I'm now officially calling for a National No Remain Protesting/Whingeing/Fuckery Day. That's all I want. One, single, solitary day, where NOBODY from the remain camp complains about, or tries to sabotage Brexit. Is that too much to ask from these cunts?
Nominated by Quick Draw McGraw