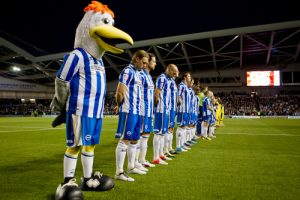 I'd like to Cunt the current trend for every sporting event to be preceded by a minutes silence/clapping for whichever person with even the most tenuous of connection to the sport has croaked.
The camera pans along the players, who these days seem to have to lead out a veritable smorgasbord of handicapped children ranging in colour from deathly pale to coal-tar sooty.
Everyone has to pretend that they give a fuck that some old fart who played for Accrington Stanley in 1935 or whatever has finally told his boring interminable anecdotes for the final time.
The supporters are just as bad,determined to virtue signal their "goodness" to all and sundry,their moon-faced bovine expressions bringing to mind bargain-bucket day at Burger King…..unless they happen to be Liverpool fans,of course,in which case they'll be too busy trampling their "family" underfoot in an attempt to get in for free. (Self-pity city spongers)
It doesn't happen at the decent sports…rugby,cricket,horse-racing. More at the kind of sports popular with Ian Wright's type. I don't see why the game should be delayed to honour some fucker who we can be certain won't appreciate it.
Nominated by Dick Fiddler