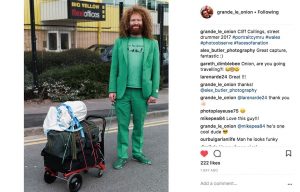 The Jolly Green Drummer.
This down-market, Ed Sheeran ginger-minger look-alike, which dresses head-to-toe in shamrock green, is a monumental cunt, a noisy cunt, a cunt so devoid of imagination that the only thing remotely musical about his desperately sad "act" is the seemingly obligatory ghetto-blasted backing track.
I have not had the misfortune to endure anything so unmusical since that hook-nosed sack of shite Campbellend was espied buggering the bagpipes outside the Liebore Pardee diversity wank-fest in Brighton. Just avoid his patch, opposite the Principality BS in Queen Street, Cardiff.
If I were dictator, I'd allow the Noise Abatement Society a shoot-to-kill permit.
Did I mention that he is a CUNT ?
Nominated by, HBelindaHubbard
however HBelindaHubbard at least he is not a living statue.