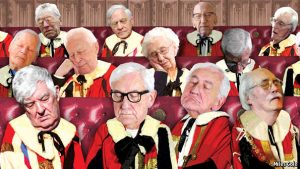 In an ideal world, the House of Lords is a body that keeps the more cuntish aspects of the House of Commons in check.
This is not an ideal world.
These rat bastards have inflicted a big defeat on the government over a key Brexit red line – leaving the EU customs unions.
No doubt this band of smug wankers are patting themselves on the back for their continued servitude and arse kissing of the rotting and rotten entity known as the EU.
I wonder…….. just what is the point of the House of Lords in this day and age?
They are unelected and apparently unaccountable to anyone but themselves.
The are the second largest political body in the world, second only to the Chinese Politburo! The goddamn Politburo of a cuntry with over 1.6 billion people! Why the hell do this small island need a political body THAT big?!
It is stuffed full of political has-beens, failures and arrogant out of touch cunts.
How the fuck are there so many Lib Dems in it? They've never has that many MPs in the Commons in like 100 years!
Just how much money, taxpayer money is this country bleeding out of its arse to keep these cunts around?
Just how much taxpayer money, our fucking money, does it cost every time legislation keeps getting bounced between the cunts in the commons and these cunts?!
Do they hate this country so much that they would rather see us get shafted continuously by the EU?
A lot of the Lords are all old decrepit cunts who probably don't know where the fuck they are at half the time, so how are they suitable to dictate how this country is run?
Every time they pull this BS it surely must raise this question:
Why do we need the House of Lords?
Over to you fellow cunters……
Nominated by Prime Minister Sinister