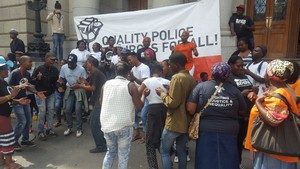 Where would we start? What did he do to deserve an annual day honouring him, whats the difference between Stephen Lawrence and any other victim of a callous unprovoked knife attack?
Well that's obvious, Stephen was black after all and the PC snowflake libtard establishment is being right on.
However many many young black men have been stabbed to death since Stephen was callously and totally unnecessarily attacked at a bus stop, so why don't they get a multi-million pound investigation that's lasts decades and why no day honoured after them?
Perverse irony takes a role now as the majority of the young black men murdered brutally and savagely on out cities streets are murdered by other young black men, so they are just statistics to the government and something black community leaders would rather not publicise.
So perversely for a black man's murder to get a platinum class investigation and national news coverage over decades with a day named after him thrown in he has to get killed by some mentalist white cunts.
Otherwise the police, the government and the black community move quietly on, nothing to see here.
The parents of these other young black men grieve less because their child's murderer was another black man? These parents don't deserve the same level of support and ongoing police investigation because there child was killed by another black youth?
Seems black lives only matter once again when ended by a white man.
There are indeed rivers of blood on the streets of our cities but it is the blood of black youth running down the streets of black communities and the media only reports statistics.
Nominated by, Sixdog Vomit
shortly followed by another nomination by, Mecha-rigsby
I'd like to cunt Stephen Lawrence.
Why? Because I'm sick of hearing about the cunt. We've had 25 years of it now. The latest madness is that we're now going to have an annual Stephen Lawrence day. The cynic in me thinks this is an empty gesture to appease the effniks in the wake of this windrush fiasco.
The cunts that served him up are where they belong. Around the same time They stabbed a not-that-close friend of mine who was white and left him brain damaged. Also, around the same time or not long after a mate of mine (who is black) battered two of them to fuck outside a pub in Greenwich in a completely unrelated incident.
SL's legacy is that the plod are now so emasculated by the Stephen Lawrence race hustling industry that they won't dare carry out and stop and search on minorities. And that's why black kids are running around going crackers stabbing each other to death.
I've heard a few things over the years from people in the area that SL was far from an angel himself. Of course that doesn't mean he deserved to be murdered by let's fucking dial back on the patron saint of deceased aspiring architects hysteria a bit.
If there is to be a Stephen Lawrence day then there should be a kriss Donald day. And a Keith blakelock day. And a Lee Rigby day. Etc.