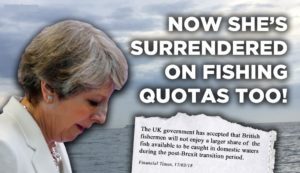 Never for one minute believed all the huffing and puffing over a coupla dead Ruskies in Salisbury. So a few Putin goons wafted a spot orf spy spray over a double agent/dodgy oligarch and his missisky. Par for the course doine me neck orf the woods. Johnson and May outraged and defending the honour orf Blighty? International incident? Fuck orfski. Just a media smokescreen to cover their total capitulation over the terms orf the Brexit negotiation.
Now they have slipped that one past the ever vigilant newshounds orf the media we get reports orf how they are backing orf on their hard line stance, reducing the rhetoric ect ect. Blighty's defences are fucked, we have no diplomatic leverage and our "allies" have issued their communiques very vaguely in our support and offered to hold our coat in any fight. Needless to say the old British Bulldog no longer has a pair orf dentures that fit so once again, discretion being the better part of value, we bottle it and retreat, the laughing stock orf the world.
Poor old Blighty. Can we fall any lower?
Nominated by Sir Limply Stoke