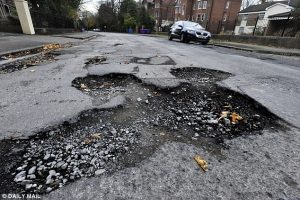 I could never understand why it costs many millions to repair the reported potholes (6312) of Surrey for example. Or indeed billions nationally. I have repaired potholes at the end of my driveway where it joins the main road. You buy a bag of tarmac, you dig out the loose stones and dirt from the hole till it's nice and clean and solid, throw in the tarmac and voila!, it's good for 4 to 5 years for 3 quid plus my time (1 hour) .
That doesn't cost millions does it? I was watching a news program on TV showing councils repairing potholes. They had a road gang with 3 to 5 massive machines, stripped the entire road surface for a hundred yards and replaced the entire road. Quoted cost? 200k.
Ah! I then saw why this is a billion pound problem. Replace 100% of the surface for a 1% problem or else the potholes might come back. This has the benefit of using up any spare council slush money swilling about before the end of the budget cycle. Have you noticed the increase in road repair activity in February and March. So the sad state of the roads is a political Aunt Sally to maintain council budgets, and 'relationships' with the construction industry.
Pothole repair is rubbished by these experts as it doesn't last as long as proper resurfacing. But if your planned resurfacing is way longer than the lifetime of our pothole repair then you are full of shit.
The good thing about potholes though, is that lots of cyclists in Lycra get their bollocks crushed every year.
Nominated by Mrs B, Essex