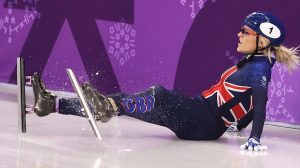 Elise Chirstie – Stop crying – Its skating not sliding you cunt. A tip, if you keep getting knocked over, move.
The Snowboarding Bint complaining it was too windy and cold – What part of Winter Olympics on a Ski Mountain would not confirm that may be the case? The US had no problems getting the medals on the same day.
All of the Curling Teams – What the fuck is this you (mostly) ginger cunts?
And Claire Balding, you and the olympians recycled from 40 years ago to string this out more than it needs to be – Get off my TV you horse.
Nominated by King Cunt
I would like to nominate Team GB Winter Olympics Short Track Speed Skating for a cunting.
Every 4yrs we get one "star" for the AL-BB-CERA to fawn over, and they fall over.
4yrs ago and this year Elie Christie was the big gold favourite and yet again she spends most of her time on her arse.
The preceeding race Charlotte Gilmartin…ends up on her arse.
20yrs ago the nation was gushing over Wilf O'Reilly (who also ticked a box or two), huge favourite for gold going into each of the Olympics he attended…ends up on his arse!
Now colour me simple, colour me stupid but I would have thought lesson #1 day #1 of learning any skating discipline would be the ability to stay on your fucking feet!?!
Maybe Team GB should invest in some of those skates that have 3 blades on them that 4yr olds use to help stop them from falling over? Just a suggestion.
Nominated by Rebel Without a Cunt