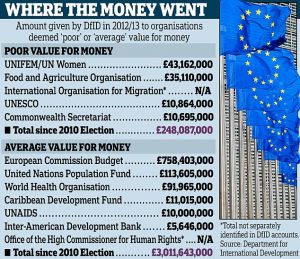 I know this is old ground but it really winds me up. This country ships about 13 billion a year abroad in foreign aid. We're legally obliged to do it because Cameron enshrined it in law (so that Cleggy would keep him in number 10).
On the news this morning one of the main stories was about the NHS considering cancelling non urgent operations for a month because it's creaking under the strain. Of course this has nothing to do with 300,000 + immigrants coming into the country every year. We have a housing / homeless crisis and numerous other social problems. We are cutting our armed forces continually and are now in a worrying situation re: defence. A lot of the homeless are ex services. Where's the support ?
The politicians in this country seem to be more interested in helping foreigners than their own people. I called into the supermarket yesterday. In front of me at the checkout were a smartly dressed couple of the peaceful persuasion ; they had a trolley full of stuff which came to seventy odd quid. The woman whips out a wad of vouchers (now this supermarket doesn't have a voucher scheme), so I can only assume that they were issued by some government department.
Anyway, checkout girl runs the voucher barcodes through the system and off they toddle happy as Larry. I pondered briefly to consider how hard I have to work for my money and lo and behold my piss doth reach boiling point faster than a jetboil kettle.
This country is in deep shit and if things don't change very soon the consequences will be dire in the extreme. Any politician calling at my door canvassing for votes will be asked if they are committed to abolishing foreign aid and stopping immigration apart from people who are needed in critical areas. If they answer no they will be told to fuck off in no uncertain terms.
As an aside, the local labour party dropped a Christmas card through our letterbox. It was the 31st of December. Can't even deliver a Christmas card on time, the cunts.
Nominated by Jack The Cunter