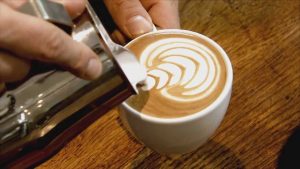 I'd like to cunt Barista's and the cunts that employ them who appear to instil in them a sense of moral superiority.
Foooooking cunts, I dislike many many aspects of modern life but I reserve a special hatred for those hypster type coffee serving cunts.
When in the fuck did becoming a cunt that served you a brew give you licence to look down your fucking nose at the person paying £3 for a bit of hot water and a few ground up coffee beans?
Oh and whilst I'm at it just because you've got a fucking stupid beard and some torture device in your ear lobe it doesn't make you trendy, it merely confirms you're a failure that dropped out of Sociology at the start of your second year.
Get fucking fucked you cunts.
'like yah, can I just write your name like on this cup ya know so I can shout you out when it's ready, ya know'
'Sure it's CuntyMcCuntface with a capital C'.
Cunt
Nominated by Cunty McCuntface