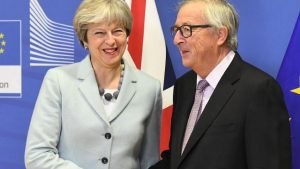 I Woke up this morning (baby) to hear a 'Great Brexit Fudge Tunnel' deal had been miraculously agreed upon. Hurrah! Our previously useless Maybot had somehow triumphed over the devious crooks that run the EU and had magically DELIVERED something that only one day before would have been considered impossible!
What a fucking turnaround…bring out the bunting…street parties a-go-go!
Only problem is we have to pay the Evil Empire a minimum of £45billion Net for…?? And remain in the Single Market and the Customs Union UNTIL the Irish border question is solved to the satisfaction of Ireland /EU /UK and the DUP, which of course is likely to be NEVER. So the same as remaining in the EU with no influence or seat at the top dinner table, but guess who'll still be paying for for the food and entertainment…
During this eternity no third party trade deals will be allowed, freedom of movement/immigration will continue uncontrolled, and to add insult to injury the ECJ will continue to have jurisdiction within U.K. for 8 more years at least!
So there we have it, as predicted by so many on this site:
BREXIT IN NAME ONLY
Nominated by Shitcake Baker
Once more the field is strewn with the corpses orf capitulation and bugger me we lurch orn to Trade Deal negotiations as the vanquished, the beaten force. We are now led by a generation orf surrender monkeys into a dark ignominious twilight orf defeat. How our enemies crow. The Oirish Snake Veradkhar hisses its triumph, "We have achieved everything we wanted". That includes offering dual EU citizenship to every proddy cunt in Northern Ireland thus inserting a massive crowbar between it and the remaining tatters orf the UK.
To rub acid into our wounds the Hunchback orf Downing Street totters aroinde looking pleased with itself while Junker caresses its hump.
As to the illegal "Divorce Bill", that is to be only £40bn oh huzanners and ring every church bell in the land. Guess where most orf that moolah will be going? To the CAP (Common Agricultural Policy) and which cunts are the major beneficiaries orf that? Surely not the Frog bastards, those self same cunts running the "Negotiations". What worse oitcome could there be than an arse and a gobfull orf Eurospunk? The Hunchback has thoroughly pissed orf Trump yet again re Jerusalem so no prospect orf help there.
Poor Blighty's only hope can only lie in the bloodied and torn state orf its arse. At some point in the future the EU will become disgusted and bored at what we have to offer, dump us and move orn to fresh bum.
Nominated by Sir Limply Stoke
( To read the full text of the agreement click here )