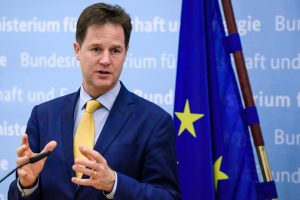 Well fellow Cunters, I have long since resigned myself to the fact that just when I thought 'it couldn't get any worse'….. then it does.
Happily skimming through the usual MSM websites laughing at the usual bunch of SJW, lefties, libtard and snowflakes melting down about Trump, Israel, Brexit, climate change blah blah blah….
Then I see reported that Nick Cunt Clegg is in line for a new year honour….
Christ on a bike, Mo on a flying horse, 'Sir' Nick Clegg. Fookin Hell my piss is BOILING.
Please let it be fake news😡
Nominated by LeonardoDiCunty
Words fail me.
Well, actually no! They don't…
Nominated by Dioclese
I would like to cunt the honours system. Isn't it about time this out of date heap of shite was consigned to the dustbin of history ?
The thing that has triggered this cunting ( which is heartfelt, believe you me ), is the news that Nick Clegg is to receive a knighthood in the new years honours list, presumably for his efforts to derail brexit although that won't be the reason given. Of all the people that could receive an honour ,this low lying, persistent, lingering bank of perpetual fugshit is one of the least deserving. One can only hope that her maj is a brexiteer of psychotic proportions and takes the cunts head off with one graceful sweep of finest British Steel enthusiastically egged on by a chortling Prince Philip.
Don't arise, Sir Nick of Cunt, you traitorous enemy of democracy and fuck the system that promotes cunts like Clegg.
Nominated by Jack the Cunter