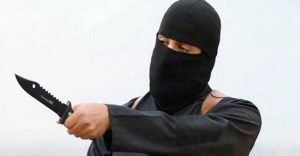 With the recent resignation of Michael Fallon over a bit of knee touching, Gavin Williamson is the new Defence Secretary and has used his first major speech to call for UK jihadis' to be hunted down and eliminated. This provoked the usual wailing from left wing cunt waffles branding him 'insecure' and 'juvenile' despite probably 99% of people would agree with him.
You join a terror organisation with the aim of bringing carnage to Britain and expect to return home pulling the wool over the eyes of appeasing bollock brain cunts as misguided or disillusioned? Your human rights went down the crapper as soon as you were viewing terror propaganda, getting a chubby on thinking about 'paradise' and your 72 virgins,as soon as you stepped on the plane your fair game, no questions.
The same cunts are the ones who hound British troops for years over jackanory bullshit 'war crimes' fairy tales, PIL parasites et el , yet them and their like are prepared to give treasonous cunts a free pass on the premise of being young, idealistic and some fucked up warped version of somehow upholding human rights.
Nominated by liberal liquadator