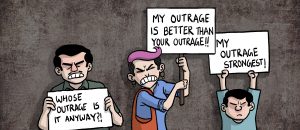 We appear to be in the midst of another full blown Moral Panic. This sort of bullshit is nothing new.
The Govt, career politicians, commentators and opinion makers, having run out of easy 'fool the public' pain-free solutions to our urgent virtually impossible to solve issues, have gratefully latched onto the latest media bandwagon frenzy (Weinstein vs. slags) to distract and smother the infantile, snowflake electorate under a slag heap of sinister trivia. Talk about 'Fiddling' while Rome burns!
Another cunting due for Humanity at large anyone?
Nominated by Shitcake Baker