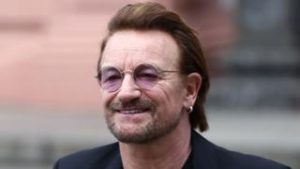 Bono is a premium cunt…
We all know about the immense legacy of cuntitude this buffoon has behind him:
Giving speeches on green issues, then having a hat (a fucking hat!) flown across the world first class on a Jumbo Jet….
Using his vast wealth to pursue and ruin former employees in the high court over a pair of trousers….
Going on about 'Make Poverty History' and all that finger clicking shite, then blowing 250 grand on a 'party'…
Appearing at every UK political party conference during General Election campaigns, when he's Irish and UK politics has fuck all to do with him…
Pontificating about Brexit and how 'wrong' it is (again, fuck all to do with rich Bogtrotters)…
Tells the 'riff-raff' to dig deep for those lost cause Africans, when he has luxury houses in Dublin, New York, Barbados, Malibu, Amsterdam, and Monte Carlo…
And now the piss de resistance… After years of telling the ordinary working man and woman what to do with their hard earned cash, this cunt has been rumbled for tax dodging and 'investing' in a Lithuanian Arndale Centre… The whole thing smells worse than a Pakistani wrestler's jockstrap fried in two week old chip fat…
He really is the Crème de la cunt…
Nominated by Norman