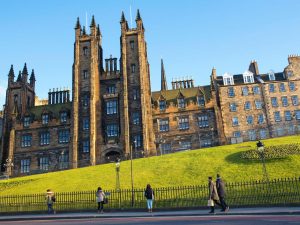 An emergency cunting for the University of Edinburgh after they decided to investigate one of their students for an Islamaphobic hate crime.
It seems that 21 year old law student Robbie Travers wrote a Facebook post after the US Air Force bombed an ISIS stronghold in Afghanistan in April. This sparked a complaint from fellow student Esme Allman, who accused him of 'blatant Islamaphobia'. Not sure, but from the picture, said complainant looks a bit peaceful?
Travers wrote 'I'm glad we could bring these barbarians a step closer to collecting their 72 virgins' – a sentiment I'm sure cunters on here share with the majority of the population.
Plod are quite rightly entirely disinterested in the whole affair, but the University are behaving like total absolute cunts.
Travers says he's considering taking legal action and adds 'Wish me luck!' Good luck, mate
Nominated by Dioclese