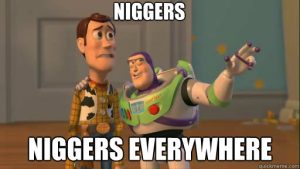 Can somebody please explain to me why it's OK for some musicless hip hop cunt to shout 'nigger' 50 times during a 'song' and yet when an MP lets slip a common phrase in use for centuries and says 'nigger in the woodpile' she's suspended from the Tory party? Has Treeza got fuck all better to do? The woman let it slip, she apologised, job done, move on.
So now we have the language police deciding what words are acceptable and what are not. Orwell's newspeak in full flow. It's bullshit, plain and simple.
Anyone remember 'Love Thy Neighbour'? Can't see them re-running that on the TV any time soon. Sambo, coon, nig nog all bandied about non stop so we could laugh at the stupid biggotted white twat and see him for what he was. Or how about 'Till Death Us Do Part' and Garnet ranting on about immigrant coons and randy scouse gits?
This is how such things should be treated, but not in the wonderful 21st century PC they're not. Well, not if they're white on black anyway because it only seems to work that way round. Ask Dianne Abbott.
The cunts that are jumping up and down about this need to get a life and a sense of proportion. Cunts one and all
Play the fucking white man!
Nominated by Dioclese